We debated about whether or not to publish an end of year list, but we couldn't resist. As we've both said before, Lonesome is a bit like a published version of the kind of chat we'd have anyway, so here we are to share it with you. So picture us all down the pub, (two pints of Guinness, please), and take this list as our way of asking "have you heard this?".

Catherine Howe - What a Beautiful Place

Easily the most listened to in the car, for the palpable surge of joy and pleasure whilst stuck in traffic I guess. The odd instrumentals that sound like the intro to the original Star Trek along with her slightly plummy, ever so English talk overs are a treat in themselves, but the strings are a true thing of beauty.
Listen: Catherine Howe - Up North

Buy it

Patty Griffin - Railway Wings

Bloody marvellous, a firm favorite for both of us. Our first exposure to Patty's work, and on the basis of this album we're both looking forward to exploring her back catalogue.
Listen: Patty Griffin - Railroad Wings


The Acorn - Tin Fist

A mini album of mini masterpieces that also gave us the fantastically named Tin-Fisting tour. Classy chamber-pop.
Listen: The Acorn - Dents


Two Dollar Pistols - Here Tomorrow Gone Today

Quality, straight up country from a man blessed with a truly extraordinary set of pipes. No nonense, tear in your beer honky tonk and all the better for it.

Listen: Two Dollar Pistols - Nothing Left of Me at All


Leatherbag - Love Me Like the Devil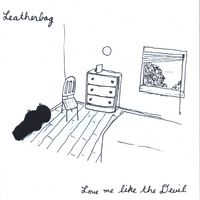 Probably 2007's most-played album in the northern lonesome outpost. We had a long debate about which song to post up here - really, all of the tracks are superb. Stripped down melancholia with a story to tell and strings and steel to bring you to your knees. Highly recommended.

Listen: Leatherbag - Jennie from Milwaukee


Soulsavers - It's Not How Far You Fall it's the Way You Land

Without doubt, Revival is the song of the year. Mark Lanegan sings country feedback, spiritualized style. Amazing. The rest of the album can't quite match it, but when a song is this good, that's not surprising.

Listen: Soulsavers - Revival


Riders in the sky - Public Cowboy Volume One - A Centennial Salute to the Music of Gene Autry

We're Rider Pals and so should you be, too. Proper big sky western music with a knowing smile but without any trace of cynicism.

Listen: Riders In The Sky - Take Me Back to My Boots and Saddle


Iron & Wine - The Shepherd's Dog

Sam Beam makes the leap from spartan to splendour look effortless.

Listen: Iron & Wine - Flightless Bird, American Mouth


James Blackshaw - O True Believers

Instrumental 12 string guitar music that is more about mood than flash. Somewhere between baroque & folk, Philip Glass on a harpsichord maybe?
Listen: James Blackshaw - Spiralling Skeleton Memorial


Laura Veirs - Saltbreakers

Much more going on than first impressions would suggest.
Listen: Laura Veirs - To The Country


Hayward Williams - Another Sailor's Dream

We stumbled upon this charmer when he supported No River City and his album is a very easy listen. It's everything the Ryan Adams album should have been - bittersweet, rootsy and full of heart. With extra harmonica.

Listen: Hayward Williams - Careful Please


The Roadside Graves - No-one Will Know Where You've Been

Relentlessly bleak and beautiful, this album is a woozy roadtrip of a record, full of gorgeous songs about ugly things. Imagine the Jayhawks singing Richmond Fontaine to a National backing track and you get the picture.

Listen: The Roadside Graves - Live Slow

There's more information and likely some more songs from each album above tucked away in this year's archives. Enjoy.
Wishing you all a happy, safe and peaceful Christmas,
Howard and Beth X